Pearls Politics & Power: How Women Can Win and Lead
--by Madeleine M. Kunin
(former Governor of Vermont
and
Ambassador to Switzerland)
VIDEO BELOW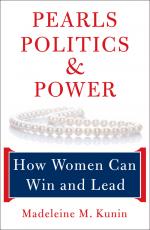 Pearls, Politics, and Power
Informed by conversations with elected women leaders from all levels, former three-term Vermont Governor and Ambassador to Switzerland
Madeleine M. Kunin
asks: What difference do women make? What is the worst part of politics, and what is the best part? What inspired these women to run, and how did they prepare themselves for public life? How did they raise money, protect their families privacy, deal with criticism and attack ads, and work with the good old boys? See VIDEO below.
Order here:
Pearls, Politics, and Power | $14.95
The next generation of women will be inspired to lead by seeing women like Nancy Pelosi wielding the gavel, and seeing themselves reflected in the portraits in statehouses, courthouses, corporate and university boardrooms, and the White House.
Pearls, Politics, and Power
will help ensure that this inspiration is not soured or deflected, but channeled into successful candidacies by America's leaders of tomorrow. [VIDEO below]
Tweet
Follow @djgTheMediaLady